IBL News Details

Product News
Product News

2016/11/14

Biomarker for Nash, Hepatic Fibrosis Mouse Mac-2bp Assay Kit - IBL Newly Released!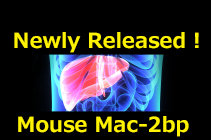 #27796 Mouse Mac-2 binding protein (Mac-2bp) Assay Kit-IBL has been released. Mac-2 binding protein (Mac-2bp), known as 90K, is a highly N-glycosylated, secreted protein, identified as a ligand of Galectin-3. It is considered that through interaction with Galectin-3, Mac-2bp promotes homotypic cell-cell contact or regulates cell adhesion. And it has been reported that Mac-2bp levels in blood have associations with various cancers and chronic hepatic diseases such as NASH (Non-Alcoholic Steatohepatitis).

Mac-2bp has been also reported that it may become a useful tool for distinguishing NASH and as a novel blood marker for predicting progress of hepatic fibrosis. This ELISA kit can measure concentration of mouse Mac-2bp.

Related Product
#27362 Human Mac-2 binding protein (Mac-2bp) Assay Kit - IBL
Related IBL News
An effective novel glycobiomarker for diagnosis of NASH (nonalcoholic steatohepatitis)!
Product Search
Please feel free to
contact us.
Immuno-Biological Laboratories Co., Ltd.
Diagnostic Research Reagent Division
Sales Support
TEL: +81-274-50-8666
Email:
do-ibl@ibl-japan.co.jp