IBL News Details

Product News
Product News

2016/11/24

Amyloid Beta (Amyloid β) Toxic Oligomer Assay kit - IBL Newly Released!
Related Materials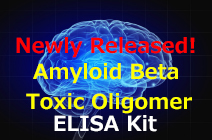 #27709 Human Amyloidβ Toxic Oligomer Assay Kit - IBL has been released.

Alzheimer's disease (AD) is a neurodegenerative disease which Amyloid Beta (Amyloid β) peptide accumulates in a brain and the predominant symptom is a decline of cognitive functions. It has been generally thought that Amyloid β which condenses and become insoluble fiber (fibril) forms the senile plaque and this denatures neurons and develops the symptoms of the disease. (This is called the 'amyloid hypothesis'.)

However, 'oligomer hypothesis' is becoming potent these days that the disease is developed by decline in cognitive function because of the soluble Amyloid β oligomer which is a middle object of a condensation process has strong synaptic injurious effects. It is reported that when the Amyloid β oligomer which is secreted from the cell or is extracted from the brain of individuals who suffer AD is injected into rat brain, it causes synaptic dysfunction and study memory loss. Moreover, it is also actually observed that the Amyloid β oligomers are increasing in brains of individuals who suffer AD compared with healthy individuals.

Oligomerization of Amyloid β 42 is considered as an early event in AD. Irie et al. have proposed the toxic conformer with a turn at positions 22 and 23 in Amyloid β 42 aggregates. This toxic Amyloid β conformer could form stable and neurotoxic oligomers. Antibody 24B3, highly specific for Amyloid β Toxic Oligomer, has been developed to be applied for ELISA assay kit. This kit can detect selectively putative Amyloid β oligomers in CSF.



Monoclonal antibody with conformational specificity for a toxic conformer of amyloid β42 and its application toward the Alzheimer's disease diagnosis. Murakami K et al. Sci Rep. 2016 Jul 4;6:29038 PMID: 27374357

Alzheimer's disease related products
Product Search
Please feel free to
contact us.
Immuno-Biological Laboratories Co., Ltd.
Diagnostic Research Reagent Division
Sales Support
TEL: +81-274-50-8666
Email:
do-ibl@ibl-japan.co.jp