IBL News Details

Product News
Product News

2016/11/11

New Article - A potential biomarker "Tenascin-C" as a predictor for risk of coronary artery lesion and resistance to IVIG in Kawasaki disease
Related Materials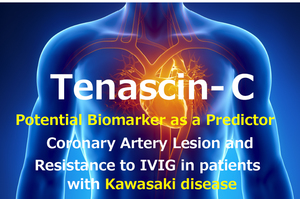 Kawasaki disease is a disease in which blood vessels throughout the body become inflamed and a small child mainly suffers the disease. The main symptoms are fever, rash, coronary artery lesion and so on. It has still not been well identified the reason for occurrence of the intractable disease. #27751 Human Tenascin-C Large (FNIII-C) Assay Kit – IBL is used in the following study and the study suggests that Tenascin-C in serum could be a novel biomarker as a predictor for risk of coronary artery lesion (CAL) and resistance to intravenous Immunoglobulin (IVIG) in Kawasaki disease.

Tenascin-C is an extracellular matrix (ECM) glycoprotein that is composed of 210-400 kDa subunits consisting of four domains. It has been reported that the high molecular variants of Tenascin-C is specifically expressed in various diseased tissue including cancer.


Tenascin-C level in the serum of 111 patient samples with Kawasaki disease (IVIG-responder: 89, IVIG-resistant: 22, CAL: 8) and 23 samples of healthy control were measured using the kit. The result was that Tenascin-C level in patient samples that were collected from the patients during hospitalization was higher than healthy control samples. It was also observed that Tenascin-C level become lower in patient samples during convalescence after IVIG administration. In addition, Tenascin-C level in patients who later developed CAL were significantly higher than in those without CAL and significantly higher in IVIG-resistance.

Learn more about this study from the following original article.
Serum Tenascin-C as a Novel Predictor for Risk of Coronary Artery Lesion and Resistance to Intravenous Immunoglobulin in Kawasaki Disease - A Multicenter Retrospective Study. Okuma Y et al. Circ J. 2016 Oct 25;80(11):2376-2381

Related Products
#27751 Human Tenascin-C Large (FNⅢ-C) Assay Kit - IBL
#27767 Tenascin-C Large (FNⅢ-B) Assay Kit - IBL
#27188 Human Syndecan-4 Assay Kit - IBL
#10335 Anti-Human Tenascin-C (Domain B) (4C8MS) Mouse IgG MoAb
#10337 Anti-Human Tenascin-C (EGF Like Domain) (4F10TT) Mouse IgG MoAb

We hope we can support your research and development work.
Product Search
Please feel free to
contact us.
Immuno-Biological Laboratories Co., Ltd.
Diagnostic Research Reagent Division
Sales Support
TEL: +81-274-50-8666
Email:
do-ibl@ibl-japan.co.jp