IBL News Details

Product News
Product News

2016/12/25

New Article: Urine Biomarker for Muscular Dystrophy and Muscle Damage Titin N- Fragment Assay kit - IBL Newly Released!
Related Materials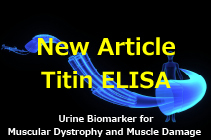 A new article related to a new urine biomarker "Titin" for muscular dystrophy and muscle damages has been published and our new ELISA kit to measure Titin in urine #27900 Titin N- Fragment Assay kit – IBL was developed in this study.

About Titin
Titin (connectin) is a protein that consists of 34,350 amino-acid and specifically expresses in a cross-striated muscle. The molecular weight of human titin is 3,816 kDa and it has been known that as the largest protein among of existing proteins in a living body. It is one of sarcomere structured protein that is a minimum unit of myofibrillary protein and it has a role as an elastic protein for recovering the length of shortened sarcomere by its contraction. Learn More

A New Article about Titin
Although there was no a particular method for measuring a protein in muscles in metabolizing process, a new ELISA kit that can quantitatively measure the titin fragment of protein in muscles excreted into urine has been established in this study. It has been revealed that titin level in urine of Duchenne muscular dystrophy patients is significantly high using this ELISA method.

It has been also discovered that titin level in urine is increased by exercise and suggested that this method may be able to apply for various testing purposes such as judging of muscle damaged caused by excises or diagnosis not only Duchenne muscular dystrophy but also any other types of muscle diseases or damages or determination of an efficacy of rehabilitation as a non-invasive test method for patients as titin can be measured using urine samples rather than blood sampes.

Please read the following original article for learning the details.
Establishment of a highly sensitive sandwich ELISA for the N-terminal fragment of titin in urine. Maruyama N et al. Sci Rep. 2016 Dec 19;6:39375

About Duchenne muscular dystrophy
Duchenne muscular dystrophy is one of 9 types of muscular dystrophy and it is a genetic disease that progressive voluntary weakens the muscles. Reference site: The Muscular Dystrophy Association (MDA): What is Duchenne muscular dystrophy?
We hope we can support your research.
Product Search
Please feel free to
contact us.
Immuno-Biological Laboratories Co., Ltd.
Diagnostic Research Reagent Division
Sales Support
TEL: +81-274-50-8666
Email:
do-ibl@ibl-japan.co.jp