IBL News Details

Product News
Product News

2017/03/30

"Angptl2" Senescence-accelerating protein - New insight has been reported.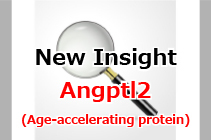 New insight 1
It has been reported that Angptl2 involves with progression of heart failure.
Although it has not been fully elucidated the cause of heart failure, the research group led by Professor Oike, Department of Molecular Genetics, Graduate School of Medical Sciences, Kumamoto University has revealed that increased expression of Angptl2 protein in heart of human and mice in remodeling process and decreased expression of Angptl2 protein suppresses progress of heart failure through their studies using various type of mice such as Angptl2 transgenic mice, conditional knockout mice, knockdown mice and endurance exercised mice.

Click the following link to learn more about the study.
ANGPTL2 activity in cardiac pathologies accelerates heart failure by perturbing cardiac function and energy metabolism. Tian Z et al. Nat Commun. 2016 Sep 28;7:13016.
PMID: 27677409

The following our product is used in the study.
#27745 Human ANGPTL2 Assay Kit – IBL

New insight 2
Another European research group has reported the analysis result of prospective cohort study (1,353 adult type 2 diabetes patients) and suggested that high level of Angptl2 in serum is an independent risk factor of MACE (major adverse cardiovascular events) from the study.

Click the following link to learn more about the study.
ANGPTL2 is associated with an increased risk of cardiovascular events and death in diabetic patients. Gellen B et al. Diabetologia. 2016 Nov;59(11):2321-30.
PMID:27491833

As above two new insights, it has been revealed that Angptl2 is a risk factor of chronic inflammation and insulin resistance and it involves with progression of heart failure so that it has been expected that Angptl2 can be a candidate for the target of development of new drug and functional materials.
Please feel free to
contact us
with reagrd to the news and our our produts.
Immuno-Biological Laboratories Co., Ltd.
Diagnostic Research Reagent Division
Sales Support
TEL: +81-274-50-8666
Email:
do-ibl@ibl-japan.co.jp