IBL News Details

Events / Others
Events / Others

2020/10/28

Meet us at AAIC Neuroscience 2020 Virtual Conference (Free of Charge for Attendees)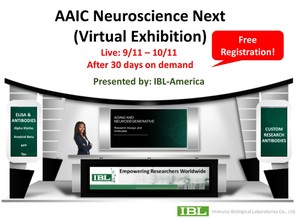 We will exhibit at AAIC Neurosicence 2020 Virtual Conference with our USA distributor IBL-America as follows.

Date:
LIVE Virtual Conference: Nov. 9th (Mon) & 10th (Tue)
On-Demand Content by Dec. 10th 2020 
Venue Virtual Show 7:15 a.m. - 2:45 p.m. CST daily
URL https://www.alz.org/neurosciencenext/overview.asp

Since we have been working on R&D of Alzheimer's disease for a long time and we have a comprehensive product lineup in the field such as Klotho, Amyloidβ, APP and Tau, such products will mainly be presented at the exhibition.

As virstual conference is Free of Charge for Attendees, please feel free to join and visit our virtual booth.
Register Now!



  

Please feel free to contact us.

Sales Department
Diagnostic and Research Reagents Division
Immuno-Biological Laboratories Co., Ltd.
Email: do-ibl@ibl-japan.co.jp