Product Detail

HOME >
#27708 Mouse/Rat Intact Proinsulin CLEIA Kit - IBL
#27708 Mouse/Rat Intact Proinsulin CLEIA Kit - IBL
Intended Use:

Research reagents
Measuring Method:

CLEIA
Sample Types:

Mouse, Rat
Measuring Samples:

Serum, EDTA-plasma, Heparin-Plasma
Measurement Range:

9 - 6,480 pg/mL (1 - 720 pmol/L)
Package Size1:

96 Well
※ The product indicated as "Research reagents" in the column Intended Use cannot be used
  for diagnostic nor any medical purpose.
※ The datasheet listed on this page is sample only. Please refer to the datasheet
  enclosed in the product purchased before use.
Product Overview
Product Overview
| | |
| --- | --- |
| Product Code | 27708 |
| Product Name | Mouse/Rat Intact Proinsulin CLEIA Kit - IBL |
| Maker Name | Immuno-Biological Laboratories Co., Ltd. |
| Intended Use | Research reagents |
| Measuring Method | CLEIA |
| Conjugate | ALP |
| Species | Mouse, Rat |
| Measuring Samples | Serum, EDTA-plasma, Heparin-Plasma |
| Measurement Range | 9 - 6,480 pg/mL (1 - 720 pmol/L) |
| Primary Reaction | Overnight at 2 - 8°C |
| Secondary Reaction | 120 minutes at room temperature |
| Storage Condition | 2 - 8°C |
| Poisonous and Deleterious Substances | Not Applicable |
| Cartagena | Not Applicable |
| Measuring Service | Not Available |
| Package Size 1 | 96 Well |
Product Description
Product Description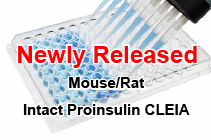 Proinsulin is a precursor of insulin that is synthesized in the β cells of the islet of Langerhans of pancreas.  
Most of the proinsulin synthesized in the rough endoplasmic reticulum of β cells is stored in the secretory granules. It is cleaved by prohormone converting enzyme (PC 2 and PC 3) and it is divided into insulin that consists of 21 amino-acid A chain and 30 amino-acid B chain and C-peptide that consists of 33 amino acid, then it is released in blood by secretory stimulation such as glucose.
However, some proinsulin does not enter secretory granules and it is subsequently released in blood as intact (full length) proinsulin without the processing.
It has been known that the ratio of proinsulin and insulin (P/I ratio) is an indicator of dysfunction of pancreatic β cell as the ratio of proinsulin become higher due to abnormality of the processing caused by dysfunction of pancreatic β cell.
It has been suggested that the P/I ratio is a valuable pancreatic β cell evaluation method that does not require a loading test as it can be measured using blood samples in fasting.
This CLEIA kit has a wide measurement range to measure the intact proinsulin at low level in fasting and at high level after loading using only 10 μL sample.
Keywords:
GIP / GLP-1 / Insulin / Incretin
Related Materials
Related Materials