Cosmetic Business

Cosmetic Material (Neosilk-Human Collagen I) Moisturizing Ingredient
INCI name: Silkworm sh-Polypeptide-47
Neosilk-Human Collagen I for All Cosmetic Products
Neosilk-Human Collagen I is made up of the same amino-acid chain (the human type I collagen α1 chain) found in the collagen synthesized in the human body. This means that it is very safe and poses very little risk of allergic reactions. Neosilk-Human Collagen I has an excellent affinity with the skin and acts as an exceptional moisturizer, providing care for sensitive skin and anti-aging benefits. (Note*This claim does not guarantee that Neosilk-Human Collagen I poses no risk of allergic reactions. In rare cases some people might suffer an allergic reaction.)
The cocoons produced by transgenic silkworms consist of only protein, and because the transgenic gene remaining in the pupae is removed from the cocoons before Human Collagen I is purified, Human Collagen I does not contain any transgenic genes. In addition, the silkworms are only fed the leaf of the mulberry tree (or an artificial diet made from the leaf of the mulberry tree), so there is no risk of the cocoons containing any ingredients of animal-derived.
◆Product Package

・Lyophilized Powder 100 mg (Use 0.1% solution dissolved in 100 mL of purified water)
Datasheet(193KB)
Pamphlet(871KB)
Click Here to Learn More about Neosilk-Human Collagen I(36KB)
Click Here to Learn More about
Neosilk-Human Collagen I(36KB)
Development of Neosilk-Human Collagen I from Transgenic Silkworms
Dr. Masahiro Tomita,
Director,
Transgenic Silkworm-based Protein Production Business
At IBL, we have been researching and developing research reagents and drugs, such as antibodies and vaccines, for decades. While human type proteins are regularly used in the medical field, we always questioned why animal-derived collagen was used for the skin care products people directly apply to their skin.
The foreign proteins of animal-derived collagen pose the risk of potentially causing allergic reactions. Convinced that safe human collagen should also be used in cosmetic products, we decided to develop Neosilk-Human Collagen I.
Why did we focus on silkworms?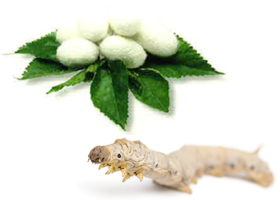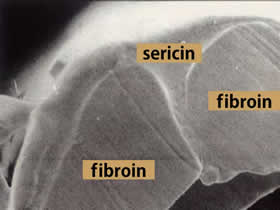 Electronic microscope photo:
Cross section diagram of silk thread Silk fiber consists of fibroin fiber and a sericin layer
There are two main reasons we chose to focus on silk worms. The first is that silk is considered to be a reliable material in medical field. Silk is highly regarded for use as suture threads in operations that take an extended amount of time. It is also highly valued as a safe material for cosmetic ingredients, such a silk powder. The second reason is that silkworms are extremely capable in terms of protein production. The cocoons produced by silkworms consist of two kinds of protein. For this reason, we believed that we can produce safe human collagen that works well with the human skin. In contrast to traditional methods of protein production, we succeeded in producing bulk quantities of high-quality human collagen through the expression of human collagen in sericin layer of silk thread, which is the water soluble part of the silk thread gland.
Verifying the Safety Excellence of Neosilk-Human Collagen I
Neosilk-Human Collagen I is made up of the same amino-acid chain (the human type I collagen α1 chain) found in the collagen synthesized in the human body. It does not contain the human type I collagen α2 chain, which is considered to contain allergens, and thus it is considered to pose a minimal risk of causing allergic reactions. This has been proven by allergy tests. (Note*This claim does not directly or indirectly indicate that cosmetics containing animal-derived collagen are toxic. It does not also mean that Neosilk-Human Collagen I poses zero risk of allergic reactions. In rare cases some people might suffer an allergic reaction.)

This data is the result of contract research conducted by Dr. Masahiro Sakaguchi, Department of Veterinary Microbiology, School of Veterinary Medicine, Azabu University.
Cosmetic Brands (IBL Affiliates)
Neosilk Cosmetics Co., Ltd.
Neosilk Cosmetics Co., Ltd. developed private cosmetic brand called " frais vent " and it contains a brand new skin care ingredient called "Neosilk-Human Collagen I", which was born as a result of extended research and development using state-of-the-art protein production technology.
frais vent also contains excellent added moisturizing ingredients such as trehalose, hyaluronic acid, and ceramide. It also contains a variety of anti-aging herbal extracts such as royal jelly extract, wild thyme extract, majorana leaf extract, licorice root extract, panaxginseng root extract, and olive leaf extract to prevent wrinkles, strengthen the barrier function, and provide whitening and antioxidant effects.
Because safety is our top priority, we do not include irritating ingredients such as animal-derived ingredients, alcohol, paraben, mineral oil, artificial color, and artificial fragrances.
‐ frais vent -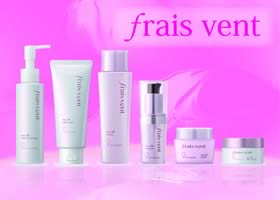 Neosilk Cosmetics Co., Ltd. (External Website)
◇The top priority is safety.

- Contains no irritating ingredients.
- No ingredients of animal origin.
- Alcohol-free
- Paraben-free
- No mineral oil
- No artificial color
- No artificial fragrance

◇Maximize efficacy.

- Contains numerous herbal beauty ingredients.