glucose-lipid metabolism

HOME >
glucose-lipid metabolism
[空コンテンツとして先に追加]glucose-lipid metabolism
ELISA
Glucose / Lipid Metabolism
Diabetes, Hyperlipidemia, Cardiovascular Events, etc.
IBL has a comprehensive line of incretin related assays that are used in diabetes research. We also have a wide range of assays that are useful for panel measurement of lipid metabolic related proteins for searching drug seeds and hyperlipidemia or cardiovascular event research. In some cases measurement of incretin or insulin may require the use of small animal samples such as mice or rats. In these instances, it can oftentimes be difficult to obtain enough sample volume for measurement. Because of this, highly sensitive assay systems are required for measuring low concentrated incretin and insulin in fasting using small animal samples. The IBL ELISAs are highly sensitive to ensure accurate measurement in small volume samples.
Made in Japan Quality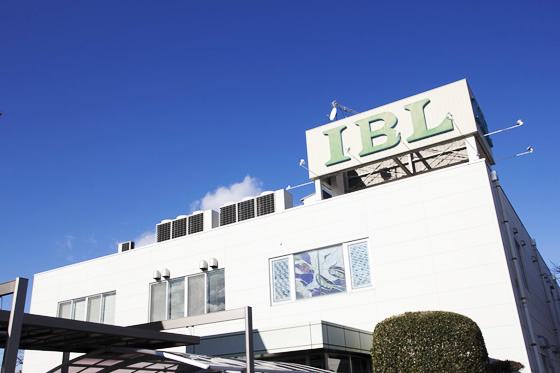 IBL has maintained ISO13485 certification since 2009. All our antibodies and ELISA products are manufactured and controlled in-house at our head office and main laboratory located in Japan. We are proud and confident in the quality of our products and services.
IBL carefully conducts all processes of antibody development with the utmost attention to the process of selecting sequence, immunization, screening, and cloning to find the best antibodies for a particular purpose. Our mission is to consistently supply quality products that are both highly specific and sensitive.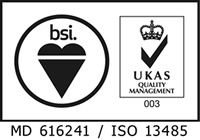 IBL Products (ELISA)
GLP-1, Active
IBL #27700 (Direct) vs Competitor (SPE)
(Correlation Data)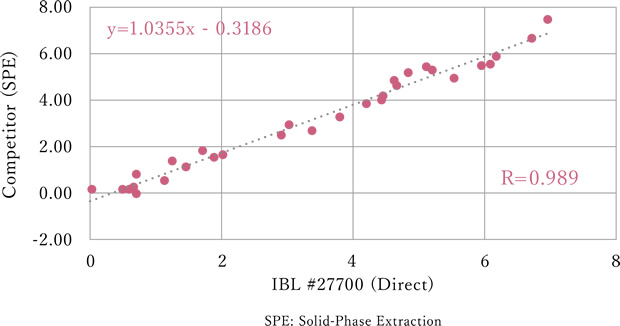 IBL's GLP-1 active kit was strategically developed for preventing non-specific unwanted reaction against HAMA even if you skip the hectic solid-phase extraction (SPE) process. The ELISA also provides stable assay results due to the level of sensitivity even if you measure it in the range of low concentration in fasting. #27700 GLP-1, active (h.s.) ELISA can also be used among human, mouse and rat samples.
Diabetes Research
Incretin(GLP-1/GIP)
* Required Sample Volume for Rodents
Insulin(ELISA/CLEIA)
* Required Sample Volume for Rodents.
DPP4/CD26
Hyperlipidemia / Cardiovascular Events
Lipid Panel
** The assays are not ELISA.
Lipid Metabolism Map
Significance of TG Control
The significance of triglyceride (TG) controls has been shown in recent studies. Development of new drugs that inhibit regulating factors of LPL activity that are critical for TG metabolism has been progressing on a fast track.
Future Drug Development (ANGPTL3, 4, 8 and ApoC3 inhibitors)
The factors that negatively regulate LPL activity like ANGPTL3 inhibitor and recent hot topics "The Development of ApoC3 Inhibitor" have been actively discussed by researchers. It has been expected that the most focused drug development might be ANGPTL4 inhibitor and/or ANGPTL8 inhibitor in the near future.
Another Risk Factor as Drug Development Target (ApoA5 and GPIHBP1)
It has been considered that possible risk factors that positively regulate LPL activity like ApoA5 or GPIHBP1 might be targeted in drug development for the purpose of TG controls. Furthermore, it has been suggested that ApoA5 could be an important risk factor for early-onset myocardial infarction as well as LDL receptor by genome analysis.
ANGPTL2 associates with Cardiac Dysfunction
It is recently reported that there may be evidence of correlation between elevated circulating ANGPTL2 levels and cardiovascular disease (CVD) or heart failure (HF) as well as association between ANGPTL2 expression and cellular senescence.
h: Human m: Mouse r: Rat m/r: Mouse / Rat hmr: Human / Mouse / Rat h.s.: High-Sensitive FL: Full-Length

Head Office Fujioka Laboratory

1091-1 Naka Aza-Higashida, Fujioka-Shi, Gunma 375-0005, JAPAN
TEL: +81 (274) 22 2889
FAX: +81 (274) 23 6055
TEL: +81 (274) 22 2889
FAX: +81 (274) 23 6055

Mikasa Laboratory

440-22 Okayama, Mikasa-Shi,
Hokkaido 068-2165, JAPAN
TEL: +81 (1267) 2 3500
FAX: +81 (1267) 2 3443
TEL: +81 (1267) 2 3500
FAX: +81 (1267) 2 3443

Maebashi Laboratory

1-26-2 Asahi-cho , Maebashi-Shi,
Gunma 371-0014, JAPAN
TEL: +81 (27) 212 9700
FAX: +81 (27) 212 9701
TEL: +81 (27) 212 9700
FAX: +81 (27) 212 9701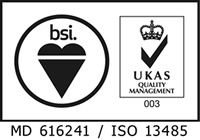 (This certification is only applied for Diagnostic & Research Reagents Business.)
Copyright©2015 Immuno-Biological Laboratories Co,Ltd. All Rights Reserved.
The material displayed on our Website is not permitted to copy and use by any third party without our official permission.