Quality Policy

IBL Group Quality Policy
We always put forth our best efforts to provide our high quality products and services to our customers.


1. We constantly make our efforts for innovation in technology and development of high quality products.
2. We always endeavor to manufacture our product from the aspect of safety and stability.
3. We always put forth our best efforts for our quality improvement based on customer needs in a serious manner with sincerity.
4. We work together in mutual respect, communicate well as a team and make our best effort as the employees.
5. We always comply with rules, regulations and laws.
ISO 13485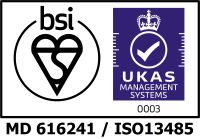 Antibody related Business at IBL maximize the know-how and expertise in antibody development and production we have gained over the years in line with our corporate policy. At the division of IBL, we are always working to improve and maintain the validity of our quality management system in compliance with laws and regulations, ensuring that we can provide high-quality products to customers around the world. We have obtained ISO 13485 certification, which is the global standard quality management system in the medical field for maintaining, manufacturing, and providing safe and valuable medical equipment.

Scope of Certification
・Design and development, and manufacture of In Vitro Diagnostic Reagents for Immunoassay.
・Manufacture of Materials of In Vitro Diagnostic Reagents for Immunoassay.