IBL News Details

Product News
Product News

2015/10/06

New Insight: A risk of iatrogenic Alzheimer's disease and cerebral amyloid angiopathy found from research of Creutzfeldt-Jakob disease (CJD)
Related Materials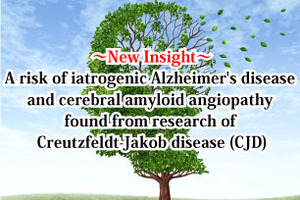 The folllowing article publised on Nature that suggests a risk of iatrogenic Alzheimer's disease and cerebral amyloid angiopathy found from research of Creutzfeldt-Jakob disease (CJD). Our best selling antibody
#10323 Anti-Human Amyloidβ (N) (82E1) Mouse IgG MoAb
is used in the following article.
Please click the following link to learn more about the study.
Evidence for human transmission of amyloid-β pathology and cerebral amyloid angiopathy.
Jaunmuktane Z et al.
Nature. 2015 Sep 10;525(7568):247-50.
PMID:26354483
Please feel free to
contact us
with regard to the products.
Immuno-Biological Laboratories Co., Ltd.
Diagnostic Research Reagent Division
Sales Support
TEL: +81-274-50-8666
Email:
do-ibl@ibl-japan.co.jp