IBL News Details

Product News
Product News

2021/03/26

Association between FGF21 and PEW in hemodialysis patients
Related Materials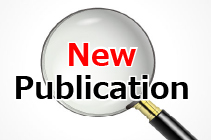 Any IBL product introduced in this IBL news is applicable for research use only and it cannot be used for diagnosis or medical purpose.

A research group led by S.J.L. Bakker, MD. PhD., a professor at the department of internal medicine, university medical center Groningen, Groningen university (Nederland), has evaluated and reported the association between plasma FGF21 of 59 hemodialysis patients and their protein intake, muscle mass, vitality and fatigues.

As the result, the following 3 points have been revealed.

(1) Plasma FGF21 was nearly twofold higher in patients with a low protein intake (<0.9g/kg/24h) compared to those with an adequate protein intake.

(2) Higher blood FGF21 was associated with higher odds of low protein intake (Odds Ratio:3.18 [1.62-7.95] P=0.004).

(3) Higher blood FGF21 was associated with lower muscle mass, lower vitality and more fatigue.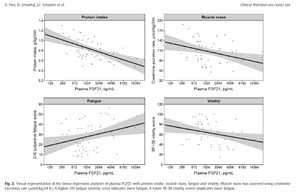 【Research Data】
Relationship between plasma FGF21 concentration in 59 dialysis patients (age 65 ± 15 years, 63% male) and protein intake, skeletal muscle mass, fatigue, and vitality assessment.

(Reference)
Post A et al. Fibroblast growth factor 21 and protein energy wasting in hemodialysis patients. Clin Nutr. 2021 Feb 3:S0261-5614(21)00063-7.

About PEW (Protein-energy wasting)
PEW is a state of malnutrition with decreased stores of protein (skeletal muscles and protein in blood) and energy source (body fat). PEW has attracted attentions as the risk factor of morbidity and mortality in maintenance hemodialysis patients.

About FGF21
FGF21 has been known as a living body's response to hunger, cold stimulation, and ketogenic diet (low-carbohydrate, high-protein diet), furthermore, antidiabetic and anti-obesity effects of FGF21 mutants and agonists, however, there was no reports to focus on the association between FGF21 and PEW in hemodialysis patients so far.

In this report, plasma FGF21 levels are shown to associate with low protein intake, lower muscle mass, lower vitality, and more fatigue in hemodialysis patients.

#27997 Human FGF21 Assay Kit – IBL is used for measuring plasma FGF21 in this study.

We hope that we can support your research.
Please feel free to contact us.

Sales Department
Diagnostic and Research Reagents Division
Immuno-Biological Laboratories Co., Ltd.
Email: do-ibl@ibl-japan.co.jp