IBL News Details

Product News
Product News

2019/06/28

Changes in serum LRG level relates with the prognosis in primary biliary cholangitis (PBC).
Related Materials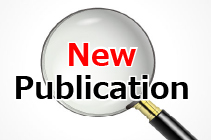 Any IBL product introduced in this IBL news is applicable for research use only and it cannot be used for diagnosis or medical prupose.

Hayashi M et al, Department of Gastroenterology, Fukushima Medical University School of Medicine, Fukushima, Japan, retrospectively reviewed clinical data of 129 individuals with biopsy-confirmed PBC.

Leucine-rich α2 glycoprotein (LRG) was analyzed by enzyme-linked immunosorbent assays using stored sera at biopsy (n = 129) and after treatment (n = 80) and compared with biochemical test results, histological observations, and the development of cirrhosis-related conditions.

It revealed that serum LRG level of PBC was 1) higher than age matched healthy controls, 2) levels of LRG significantly decreased (55.8 μg/mL vs. 39.8 μg/mL, P < 0.001) after ursodeoxycholic acid (UDCA) treatment, 3) and Delta-LRG (the difference of LRG level between before and after UDCA treatment) was associated with the development of cirrhosis-related conditions independently with histological observations.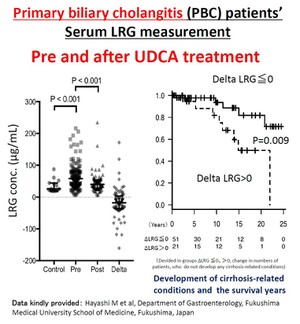 (Reference)
Changes in serum levels of leucine-rich α2-glycoprotein predict prognosis in primary biliary cholangitis. Hayashi M et al. Hepatol Res. 2018 Nov 24.

The report is of interest that they revealed the usefulness to assess serum LRG change to predict the prognosis of PBC after treatment.

In this report our company's #27769 Human LRG Assay Kit – IBL is used to measure human serum samples.

Product Search

We hope that we can support your research.

Please feel free to contact us.

Sales Department
Diagnostic and Research Reagents Division
Immuno-Biological Laboratories Co., Ltd.
TEL: +81-274-50-8666
Email: do-ibl@ibl-japan.co.jp